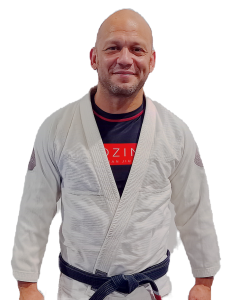 Daniel "Mãozinha" Galvão
Lead Professor and founder of "Mãozinha Brazilian Jiu Jitsu"
Daniel is a 5th Degree Black Belt under the famous Master Ricardo De La Riva. He is currently the highest ranking black belt in North Houston, and has over 20 years experience instructing a wide range of students internationally, from professional fighters to children.
Originally from Belém Do Para, Brazil, birthplace of the founders of Brazilian Jiu Jitsu Carlos & Helio Gracie, Daniel has lived around the world both teaching and competing in Jiu Jitsu & MMA.
Daniel believes that Brazilian Jiu Jitsu is valuable for everyone- not just athletes. It is one of the paramount forms of martial arts for both adults and children, as it instills discipline, confidence, and respect in those who practice.
BRAZILIAN JIU JITSU LINEAGE
Carlos Gracie – Carlson Gracie Sr. – Ricardo De La Riva – Daniel "Mãozinha" Galvão
Professional Coaching Experience
United Arab Emirates – Military Presidential Guard Jiu Jitsu Coach
Abu Dhabi Education Council – Secondary School & Military High School Jiu Jitsu Coach
Ulisses Pereira Academia: Belém Do Para, Brasil – MMA Coach
Brazilian Jiu Jitsu
 – 1st place – Royler Gracie Cup 1997
– 1st Place – State League Rio de Janeiro
– 1st Place – Absolute League of Rio de Janeiro Open Weight 1999
– 1st Place – Cyclone Cup Rio de Janeiro 1999
– 1st Place – State Champion of Rio De Janeiro 2001
– World Pro Abu Dhabi Championship (2014) Black Belt Winner
-F2W Pro 66 Winner & Submission of the Night
-F2W Pro 103 Winner & Submission of the Night
NoGi Jiu Jitsu/Grappling
-2nd Place – Grappler's Quest UFC Expo 2010
-3rd Place –  ADCC trials 2005
-3rd Place – IBJJF Worlds Long Beach 2009
-Ist Place – IBJJF PanAmericans 2022
IBJJF Certified
MMA & BJJ Referee
Fighters:
– Luis "Sapo" Santos – One FC, Bellator
– Iliarde Santos – UFC, Titan
– Davison "Dragon" Ribeiro – XFC Champion
– Bruno "CroCop" – AFC, Ironman FC
– Michel "Tractor" Dos Prazeres – UFC
American Kickboxing Academy: Fresno, California – MMA & Jiu Jitsu Coach
Fighters:
– Josh Koscheck – UFC, Bellator
– Justin Willcox – Strikeforce, Bellator
– Anthony Ruiz – UFC, Strikeforce, TPFC, Bellator
– Phil Collins – TPFC
– Ben Holscher – Strikeforce
– Gabriel Solorio – TPFC
– Casey Olson – Strikeforce, TPFC
– Zoila Frausto – Bellator Women's Champion
MMA Amateur & Pro Fighter- Brasil